Xoloitzcuintli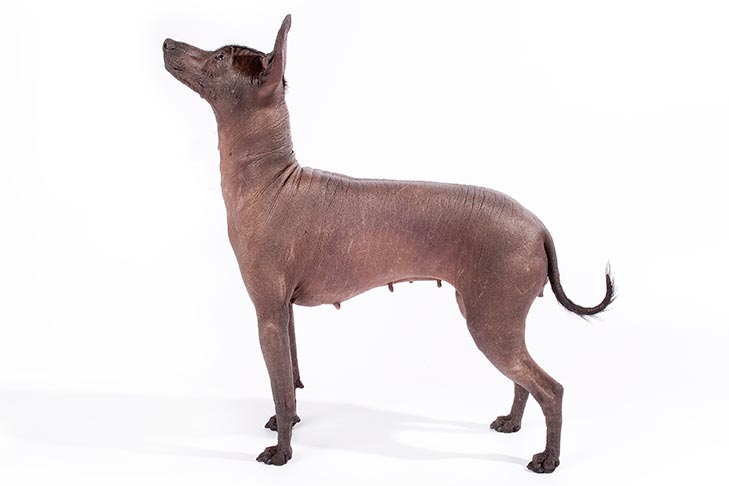 Overview
The Xoloitzcuintli is an ancient breed of Mexican origin with a very interesting history. This breed is very interesting and unusual because this dog is almost completely hairless, with smooth skin. The breed has a muscular build, a long tail and legs. The skin of the Xoloitzkuintli is very smooth and soft, and because of this, it is very important to give it special attention and provide it with proper care, because with the skin are very often associated with various diseases. There are three sizes of this breed: miniature, medium and standard, and it has different colors of skin. Xoloitzcuintli is a hypoallergenic dog breed, due to the absence of a fur coat.
Temperament
The Xoloitzcuintli is very friendly, intelligent and calm, good with children, and usually chooses one person as an owner, to whom they are very attached. Like other breeds, the Xoloitzcuintli also requires training and attention. The Mexican Naked Dog has a very developed territorial instinct, so they can sometimes react aggressively to strangers and other animals. This breed is notable for its activity, and if not educated, played, trained, and trained, the dog can become a real troublemaker.
Weight
Xoloitzcuintli can be of three sizes: miniature, which is 25-35 centimeters in height and weighs 5-7 pounds, medium, which is 35-45 centimeters in height and weighs 7-14 pounds. The standard size dog is 45-60 centimeters tall and weighs 15-25 kilograms. This breed can be a great friend for you and your child, and thanks to the fact that this dog has a medium size, you can keep it at home or in an apartment. And the advantage of this breed is that people who are allergic to fur can have it.
Lifespan
Xoloitzcuintli have an average lifespan of 11-14 years, but with good care, care and living conditions, your pet can live much longer. They are not prone to health problems as they are quite an ancient breed, however they do require special care for their delicate skin. In snowy or very cold weather, put a sweater or coat on the xoloitzcuintli and be sure to take clothes off when you go indoors so they don't overheat and their skin can breathe freely.
Puppies
The Xoloitzcuintli breed has an average litter size of 1 to 7 puppies. One litter may contain puppies who are completely naked or have short, tough coats, it all depends on the gene. It is better to start training a puppy in the first days of its arrival at your home, as they are dogs with temper, and to avoid any problems in the future, take care of it in the first days of the dog's life at your home.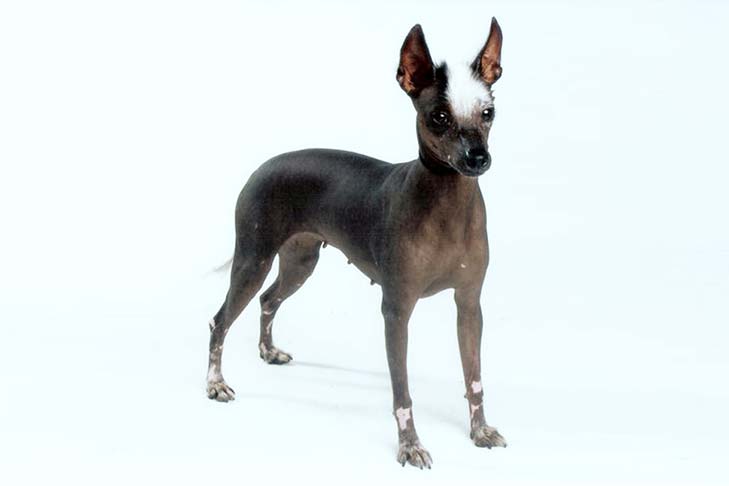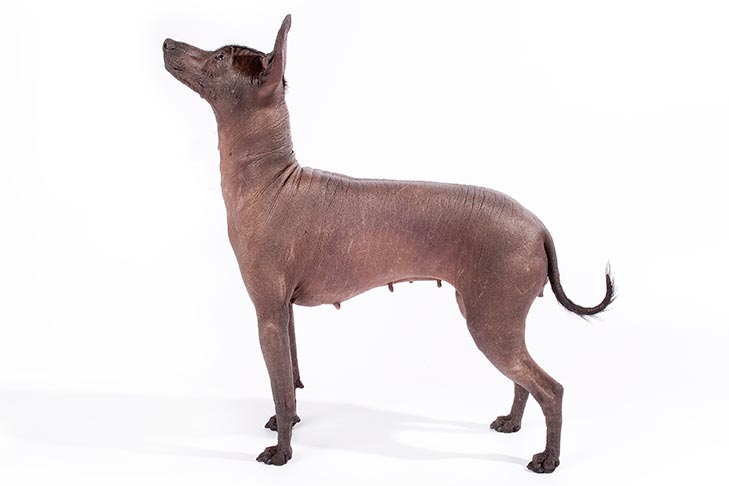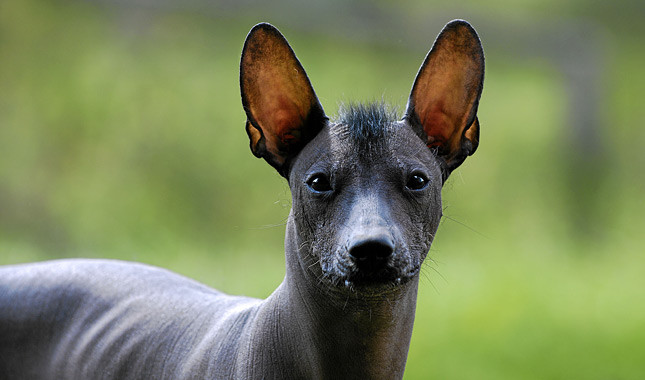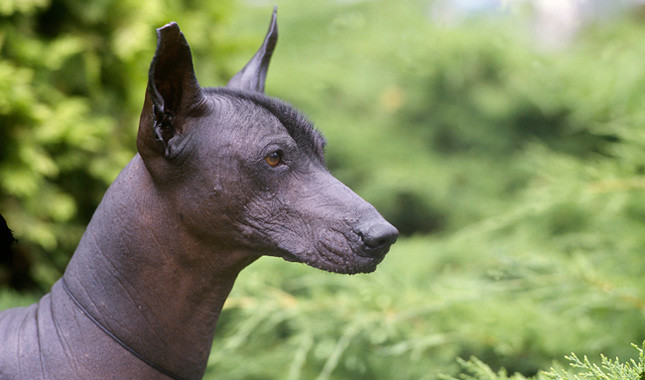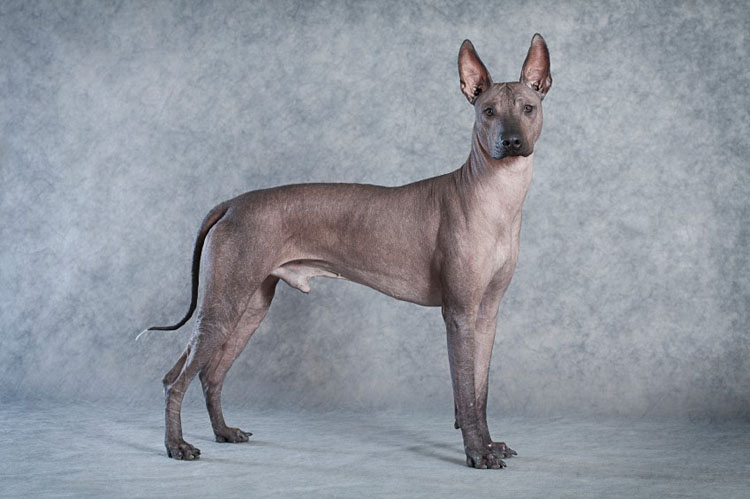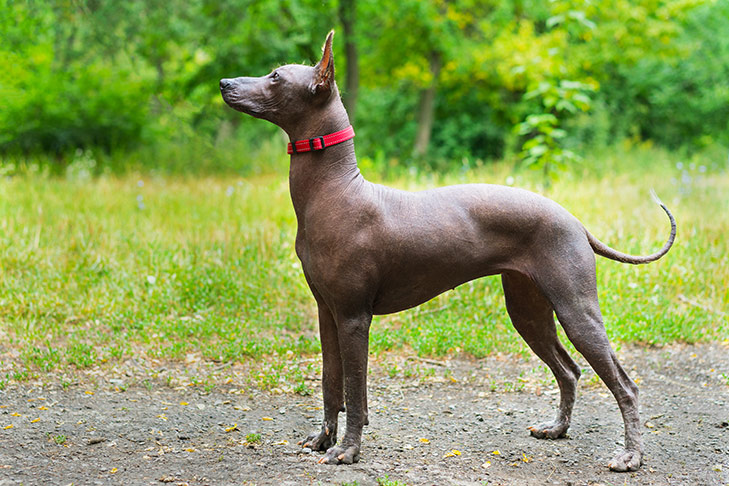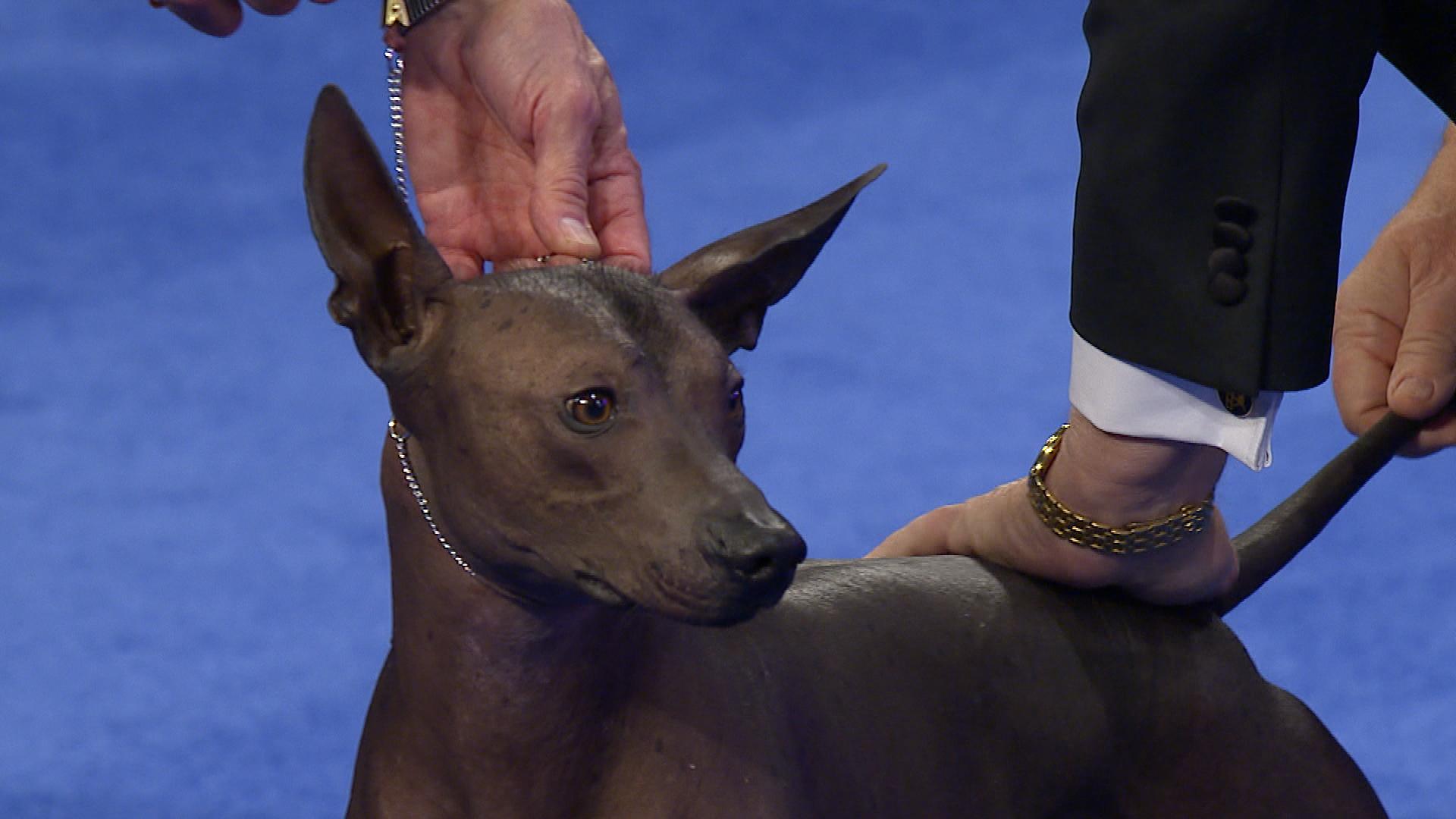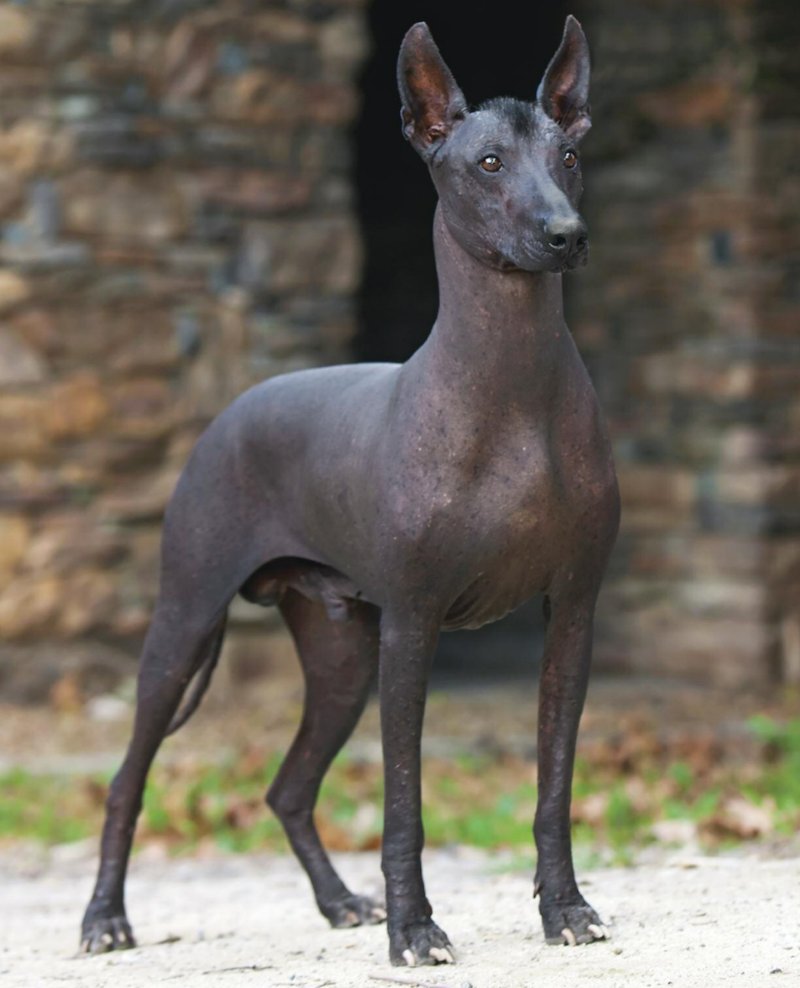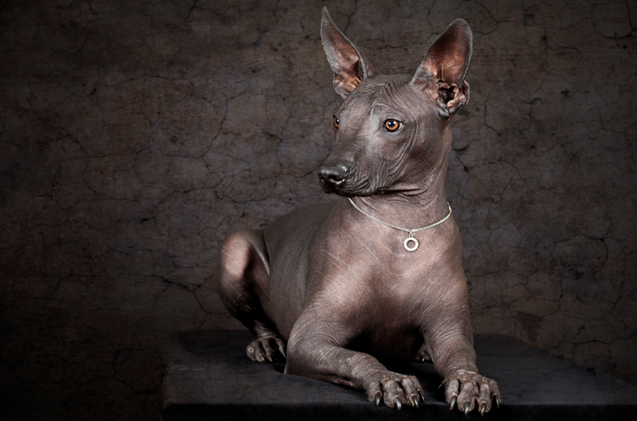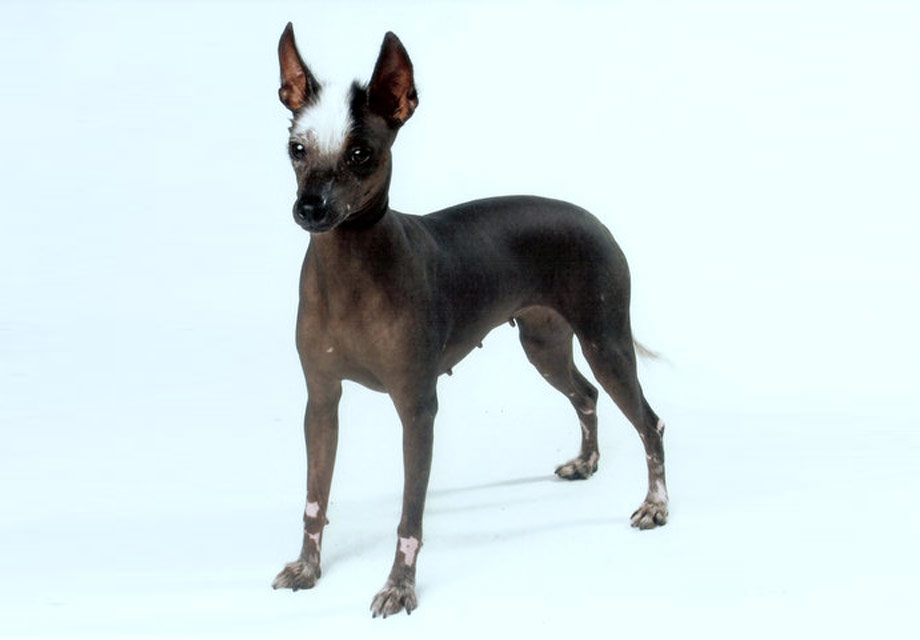 Breed Information
Popularity:
2018: #143
2017: #143
2016: #139
2015: #135
Origin:
Mexico
Breed Group:
Non Sporting (AKC:2010)
Sighthounds and Pariah Dogs (UKC)
Size:
Medium
Type:
Purebred
Life span:
14-20 years
Temperament:
Alert
Calm
Cheerful
Companionable
Loyal
Protective
Height:
15-20 inches (38-51 cm)
Weight:
15-30 pounds (6.8-14 kg)
Colors:
Black
Brindle
Brown
Gray
White
Litter Size:
3-7 puppies
Puppy Price:
Average $600 - $800 USD
Breed Characteristics
| | |
| --- | --- |
| Adaptability: | |
| Apartment Friendly: | |
| Cat Friendly: | |
| Child Friendly: | |
| Grooming: | |
| Health Issues: | |
| Intelligence: | |
| Trainability: | |
| Watchdog Ability: | |
Dog names
| Rank | Male | Female |
| --- | --- | --- |
| 1 | Jack | Lola |
| 2 | Jake | Lily |
| 3 | Lucky | Lilly |
| 4 | Henry | Pepper |
| 5 | Hank | Belle |
| 6 | Scout | Honey |
| 7 | Otis | Marley |
| 8 | Ziggy | Jasmine |
| 9 | Thor | Winnie |
| 10 | Koda | Cleo |
| 11 | Sparky | Shadow |
| 12 | Frankie | Baby |
| 13 | Chico | Hannah |
| 14 | Bubba | Nina |
| 15 | Mickey | Lucky |
Next » Yorkshire Terrier