Welsh Springer Spaniel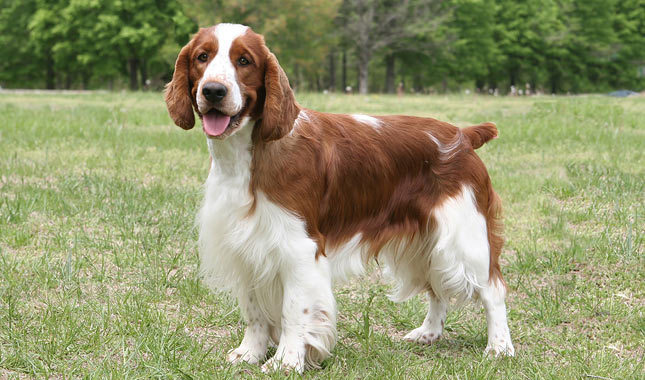 Overview
The Welsh Springer Spaniel is a type of hunting dog of British origin. The breed is closely related to the Welsh Spaniel and the Welsh Cocker Spaniel. It is a compact, medium sized dog that will make an ideal pet and friend for your family. And because of their body structure, they are very hardy and capable of doing hard work. The Welsh Springer Spaniel has an incredibly smooth, shiny and silky coat that is very beautiful and luxurious looking. These dogs are ideal for family life and are suitable for owners with no experience keeping a dog.
Temperament
The Welsh Springer Spaniel is quite noisy, kind, courageous and a very loyal dog. They are family dogs that love people and always need company, and do not like to be alone at all. Welsh Springer Spaniels are very easy to train and love to spend time with people. You should spend at least two hours a day actively walking outside with this breed of dog. They can, however, be a bit more energetic and therefore need plenty of exercise, such as running around a fenced yard on all long walks. They are ideal candidates for field trials.
Weight
Welsh Springer Spaniels are small dogs of medium build. An adult dog may be 46 to 48 centimeters tall at the withers, and may weigh between 16 and 20 pounds. It's important to evaluate his condition regularly to keep your dog in tip-top shape, not to overfeed or overindulge him, and to adhere to the nutritional guidelines of the breed. This is all to keep your dog in perfect shape and healthy.
Lifespan
Welsh Springer Spaniels have an average lifespan of 12-15 years, however, they can live much longer if they are well cared for and loved. This breed can often suffer from eye diseases, which can be hereditary, so it is important to have regular checkups with a veterinarian. The Welsh Springer Spaniel can also suffer from hip dysplasia, which also requires special attention to ensure that your dog lives a healthy and happy life.
Puppies
The Welsh Springer Spaniel breed has an average litter size of 4-5 puppies. Training of this breed should begin at an early age, and it is better to do it in the form of play. For Welsh Springer Spaniel puppies, early socialization is very important, so you must immediately introduce the puppy to other animals and people. During his first days at home, introduce him to his family or other pets, spend time actively, and your dog will be happy.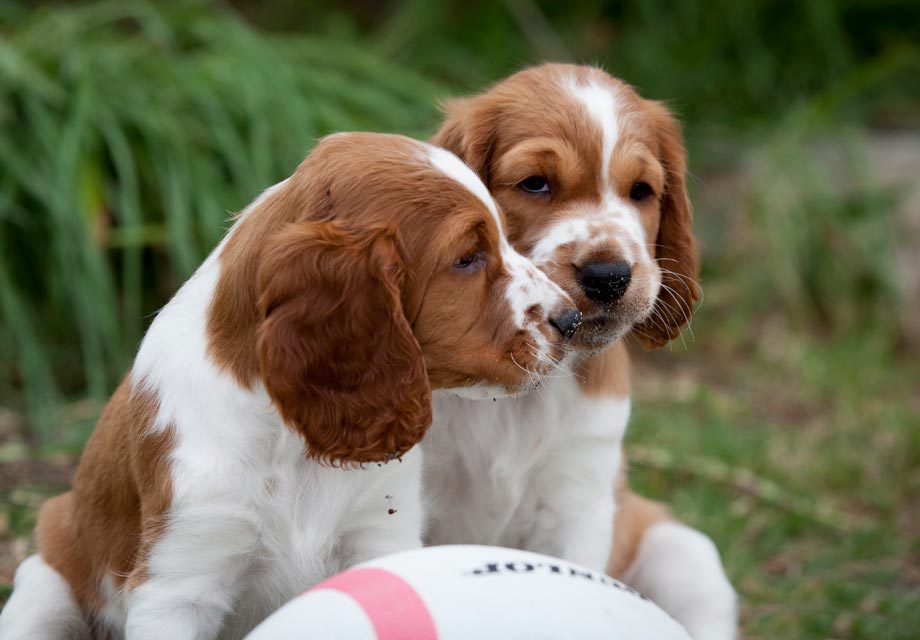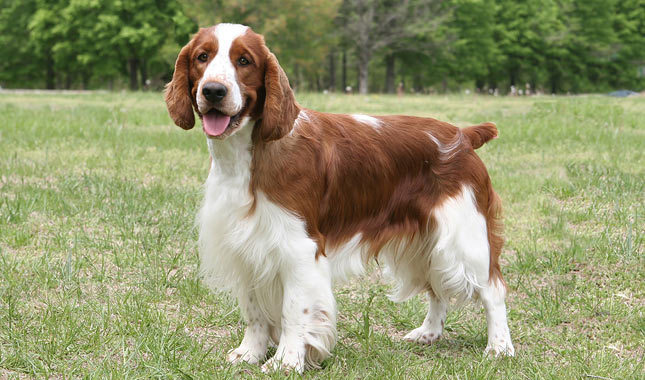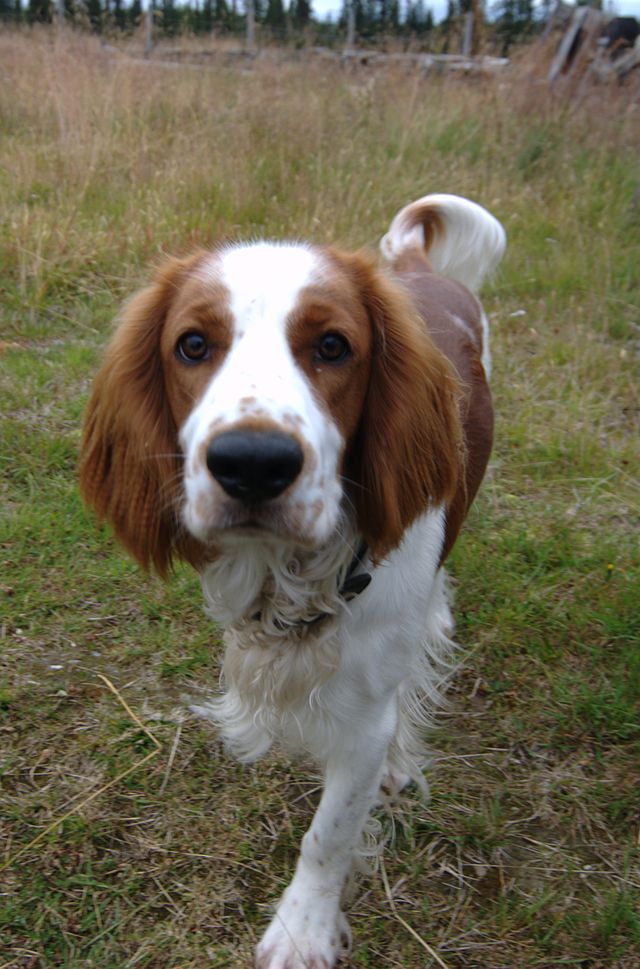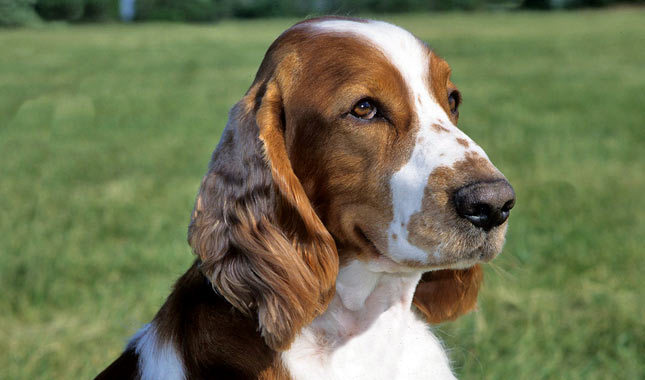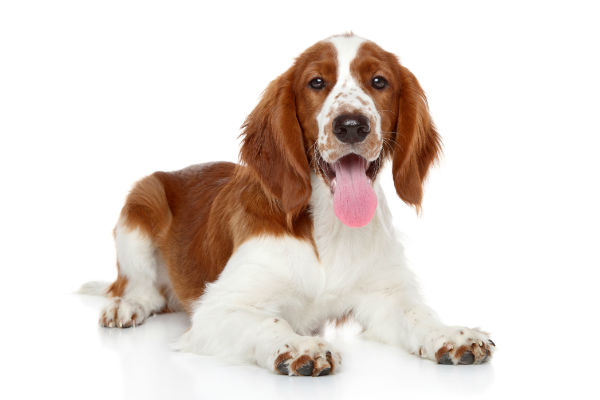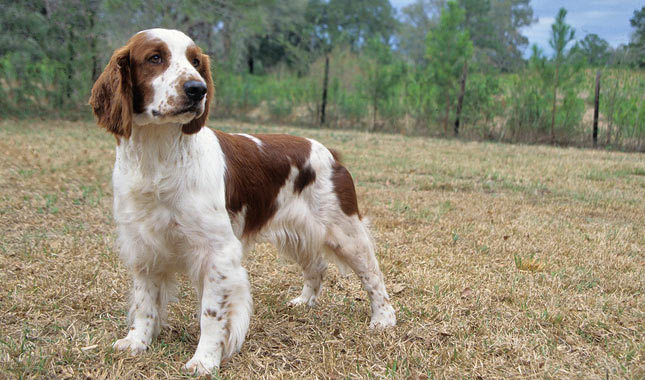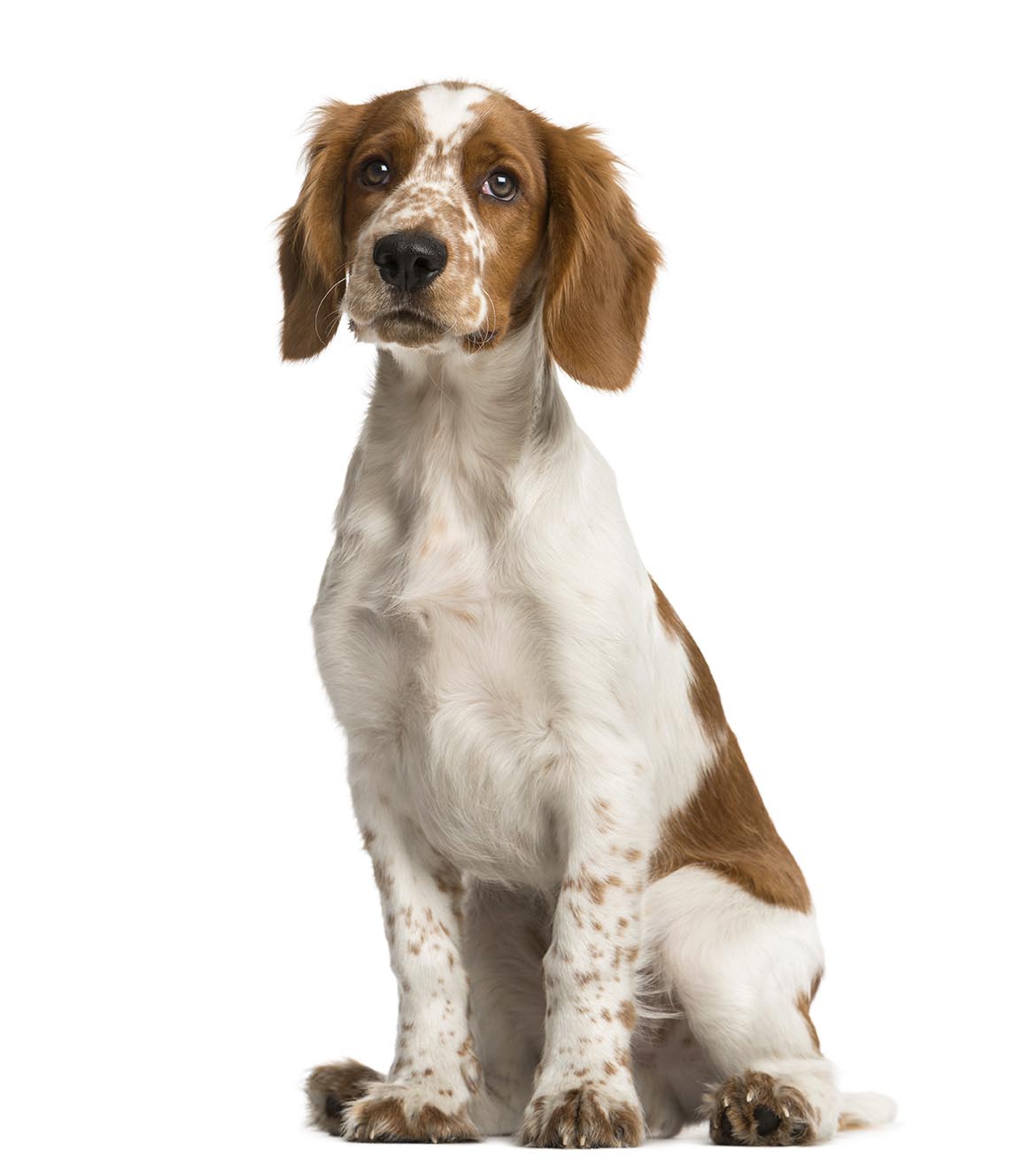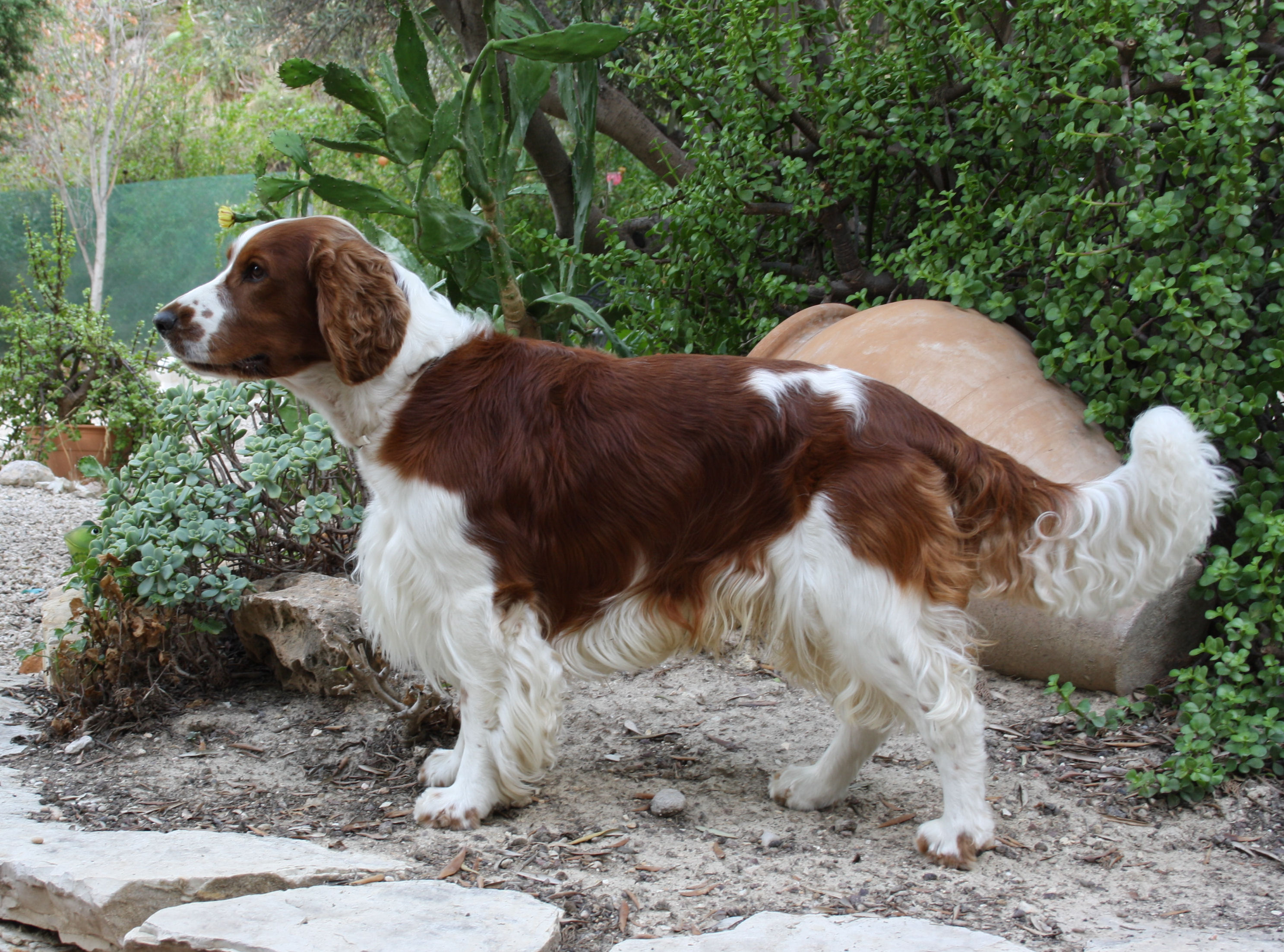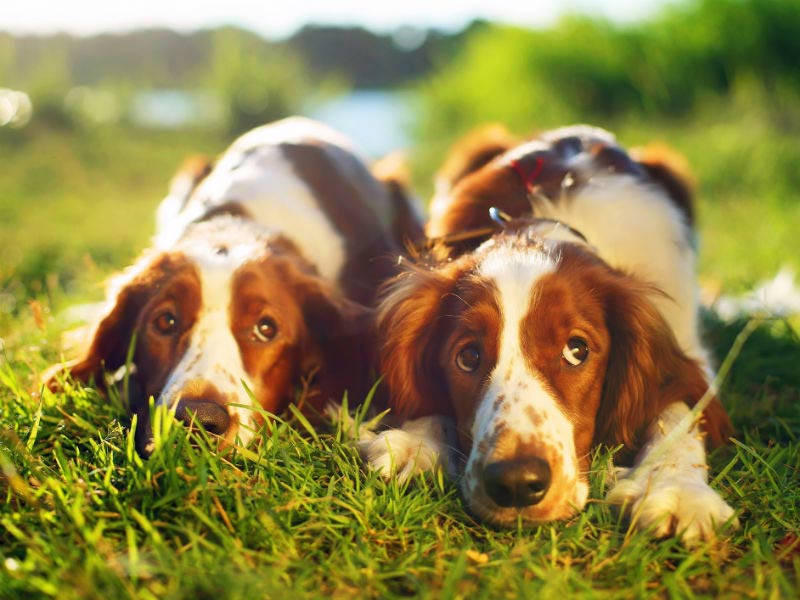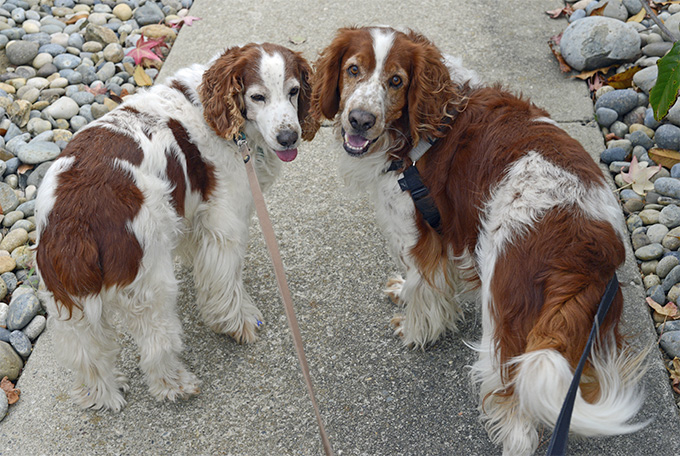 Breed Information
Popularity:
2022 #112
2021 #120
2020 #121
2019: #139
2018: #132
2017: #133
2016: #123
2015: #128
Origin:
Wales
Breed Group:
Sporting (AKC:1906)
Gun Dog Breeds (UKC)
Size:
Medium
Type:
Purebred
Life span:
12-15 years
Temperament:
Affectionate
Loyal
Active
Friendly
Playful
Stubborn
Intelligent
Height:
Male: 17-19 inches (43-48 cm)
Female: 16-18 inches (41-46 cm)
Weight:
Male: 40-45 pounds (18-20 kg)
Female: 35-45 pounds (16-20 kg)
Colors:
Red & White
Litter Size:
6-8 puppies
Puppy Price:
Average $1200 - $1400 USD
Breed Characteristics
| | |
| --- | --- |
| Adaptability: | |
| Apartment Friendly: | |
| Cat Friendly: | |
| Child Friendly: | |
| Grooming: | |
| Health Issues: | |
| Intelligence: | |
| Trainability: | |
| Watchdog Ability: | |
Dog names
| Rank | Male | Female |
| --- | --- | --- |
| 1 | Max | Bella |
| 2 | Tucker | Bailey |
| 3 | Teddy | Zoey |
| 4 | Bandit | Riley |
| 5 | Bruno | Princess |
| 6 | Marley | Maddie |
| 7 | Jasper | Olive |
| 8 | Hank | Belle |
| 9 | Shadow | Callie |
| 10 | Rex | Kona |
| 11 | Loki | Holly |
| 12 | Tyson | Scout |
| 13 | Samson | Mocha |
| 14 | Coco | Lacey |
| 15 | Mac | Ava |
Next » Wirehaired Vizsla