Flat-Coated Retriever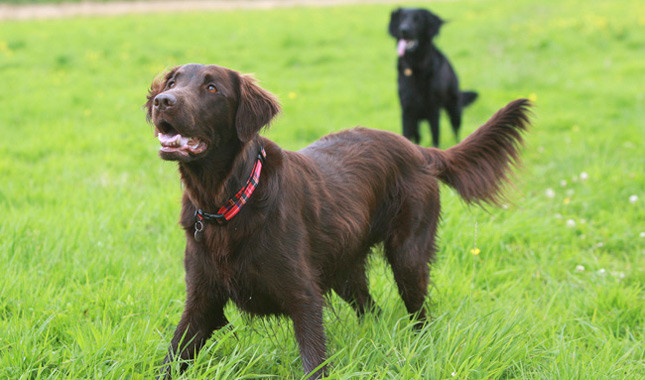 Overview
The Flat-Coated Retriever is a breed of gundog which originates in the mid-19th century from England. Dogs with "retriever" in their name demonstrate their ability to retrieve game without damaging it due to their soft mouth. The Flat-Coated Retriever was bred to be a land and water retriever. The Flat-Coated Retriever was at its most popular around the time of the First World War, after which they were overtaken by the Golden Retriever.
Temperament
The Flat-Coated Retriever has a wonderful temperament. They are an active breed with a strong desire to please. The Flat-Coated Retriever has a lot of energy and requires plenty of exercise and entertainment to ensure their enthusiasm is appropriately directed. Despite their liveliness, the Flat-Coated Retriever is well-suited to family life given their lovable disposition. They make incredibly friendly and loyal companions. Flat-Coated Retrievers make entertaining pets given their intelligence; they are smart animals and will search for ways to push the limits while still aiming to please their owner.
Training
Flat-Coated Retrievers are easy to train given their compassionate nature and intelligence. Their energy means training is a necessity. Flat-Coated Retrievers' need for constant stimulation means they are best trained in short intervals. They maintain their puppyish exuberance for years as they do not reach maturity until they are 3-5 years old. As an owner or trainer, you need to have sufficient time and patience to dedicate to their training.
Shedding & Grooming
Flat-Coated Retrievers shed given their thick coat. Flat-Coated Retrievers are a long-haired dog, meaning they require more attention than their short-haired counterparts to ensure their coat remains silky smooth. They have a feathered coat, meaning they have fringes of long hair on their ears, legs, and stomach while the rest of their coat is typically short and wiry. Flat-Coated Retrievers require regular brushing and occasional trims to keep their coat healthy. Flat-Coated Retrievers shed a moderate amount to a heavy amount.
Lifespan
The typical lifespan of a Flat-Coated Retriever is 8-14 years. Although for a breed such as the flat-coated retriever, a lifespan of 13-14 years is rather old. The Flat-Coated Retriever has a greater risk of cancer comparatively than other breeds. Those with cancer are less likely to live beyond the age of 10. Unfortunately, dogs never live for as long as we would like them to but the Flat-Coated Retriever will aim to be present in your life for a decent period of time.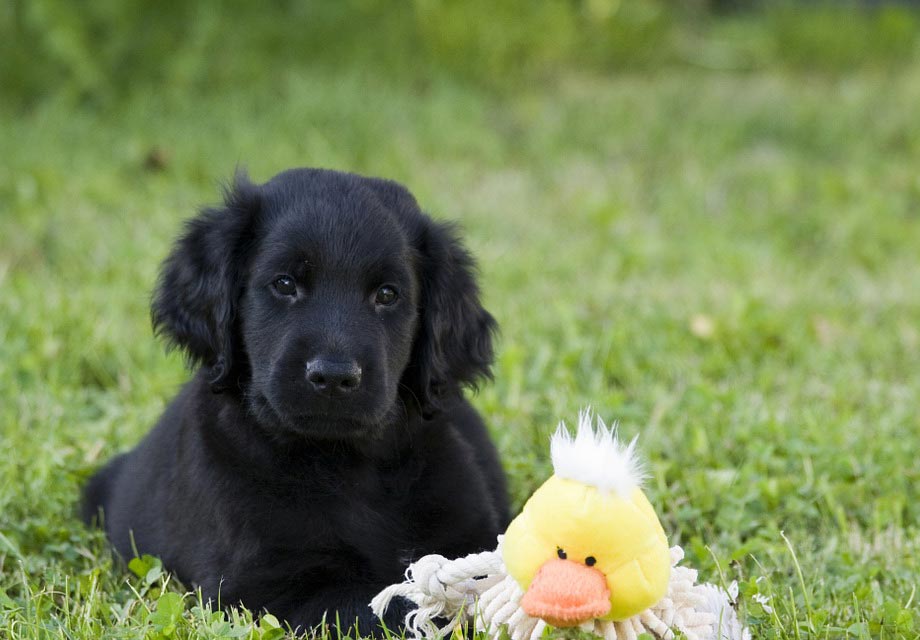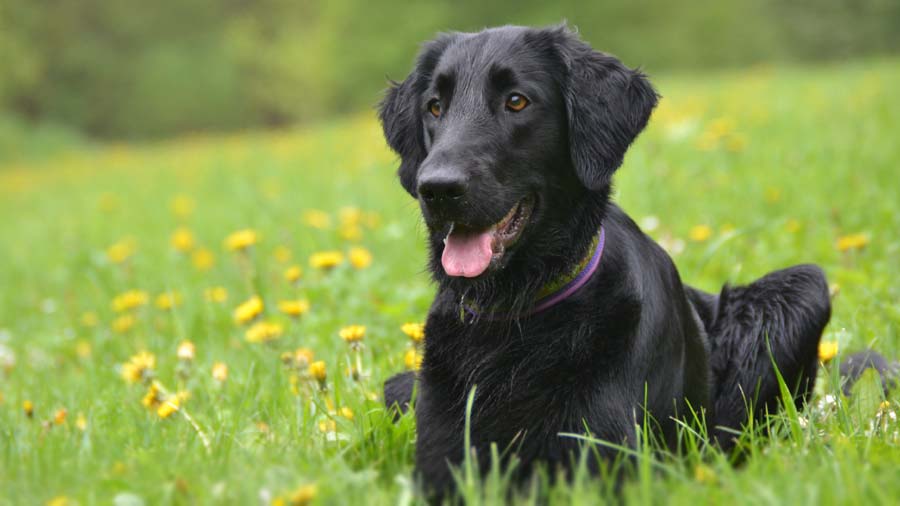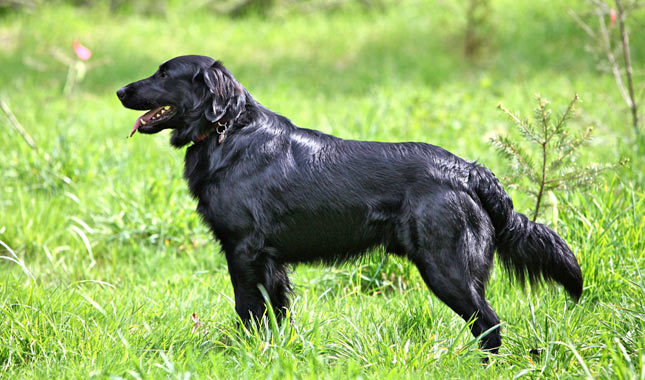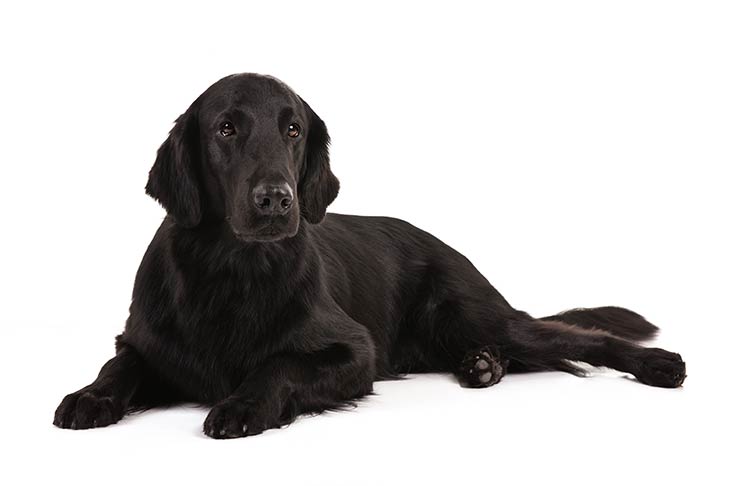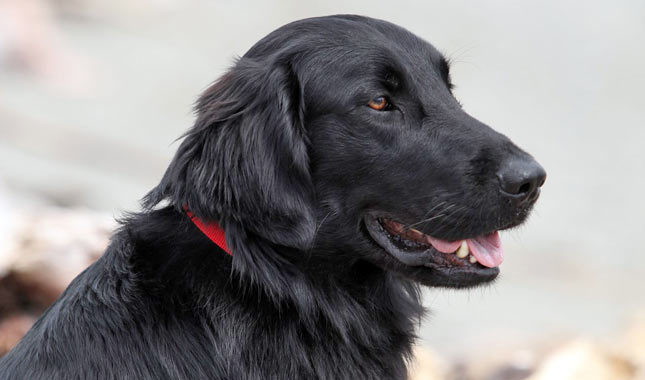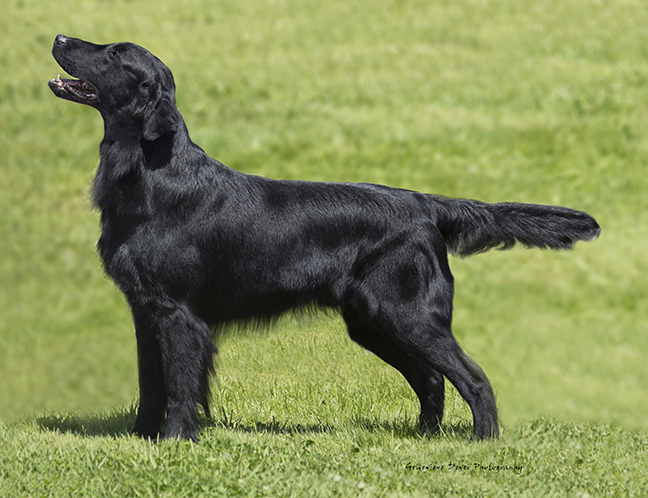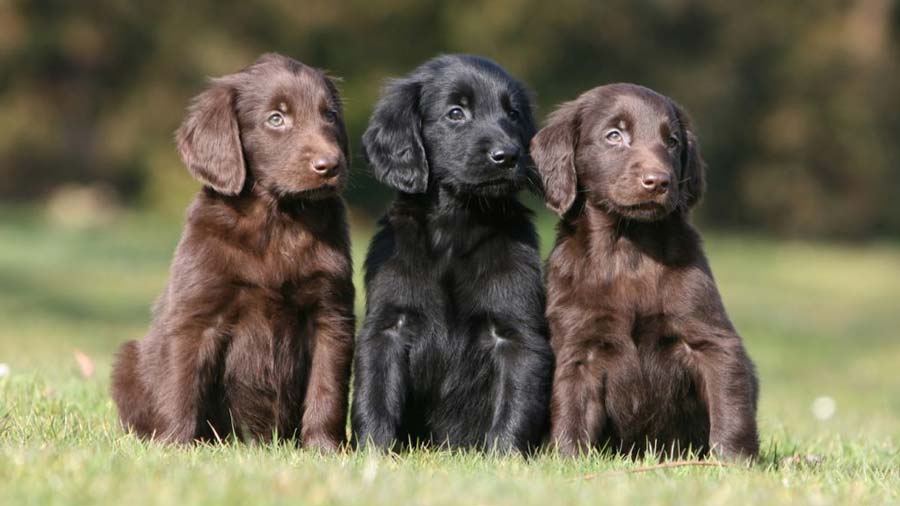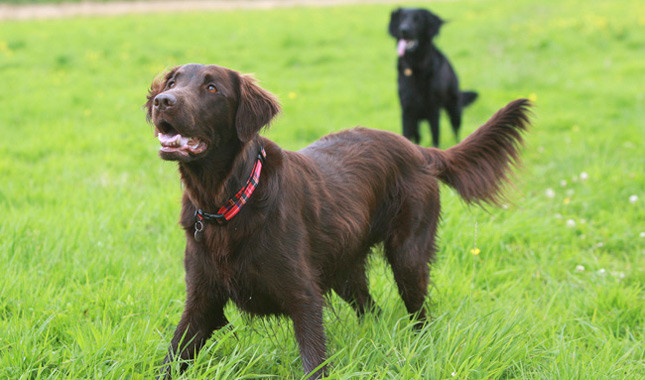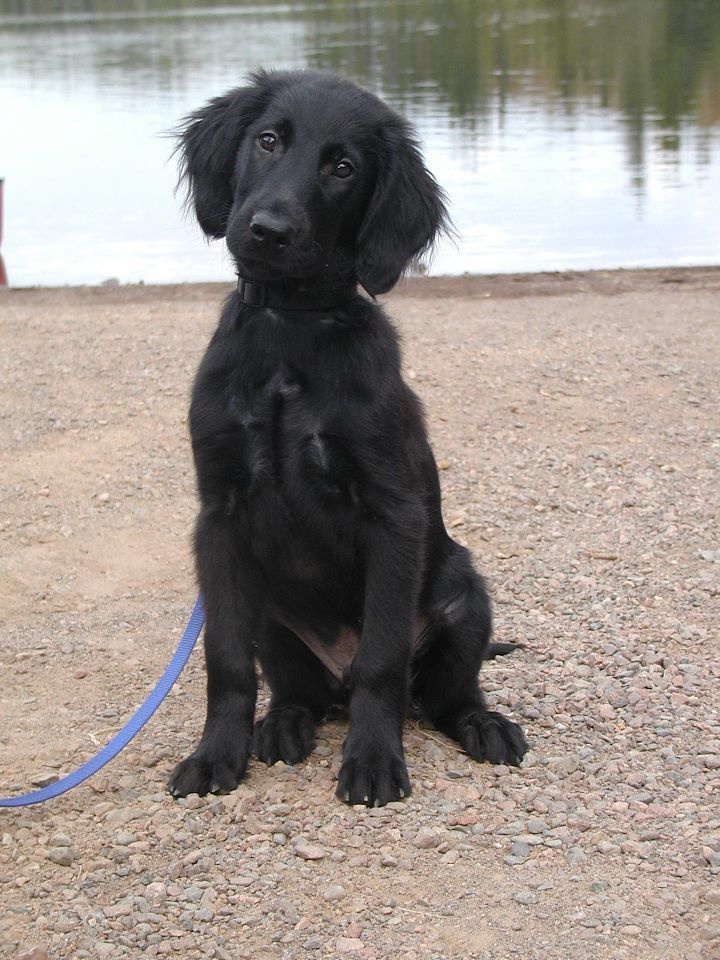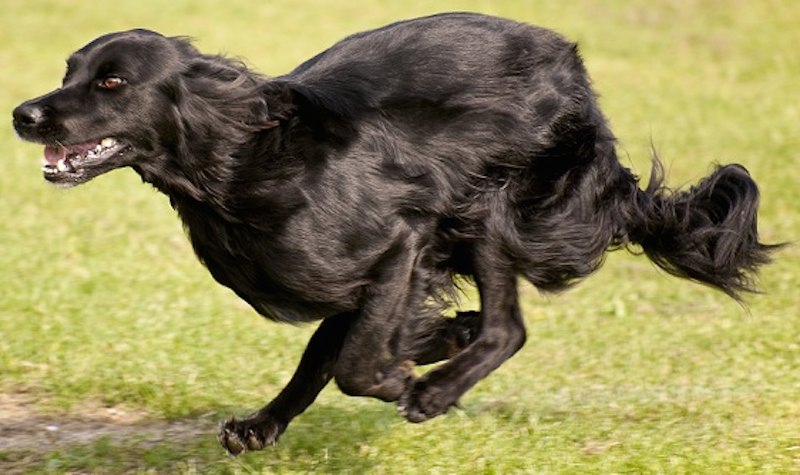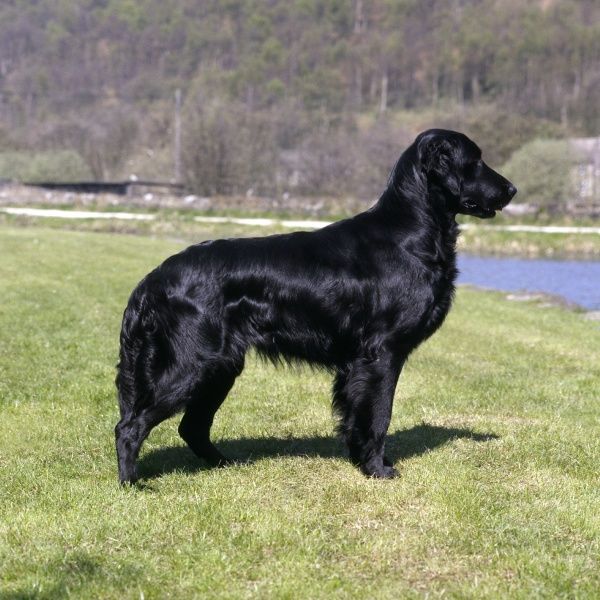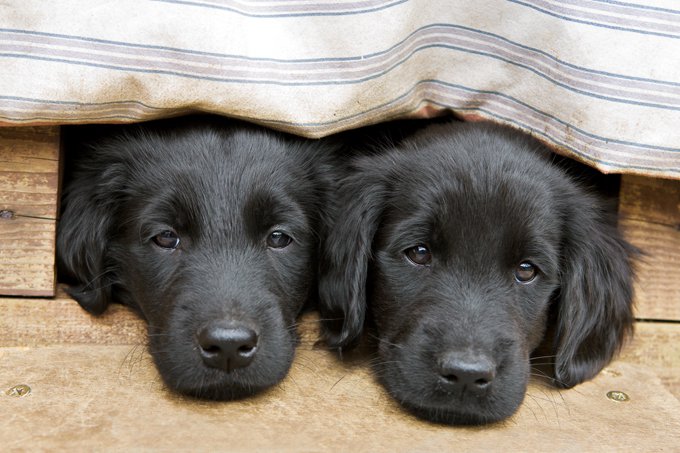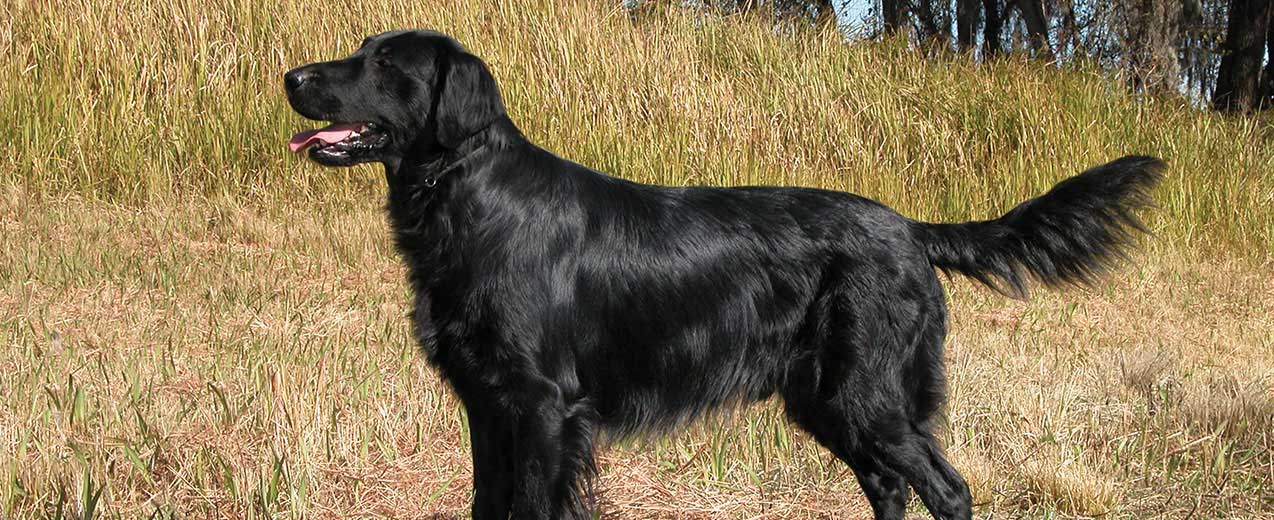 Breed Information
Popularity:
2018: #96
2017: #96
2016: #89
2015: #86
Origin:
United Kingdom
Breed Group:
Sporting (AKC:1909)
Gun Dogs (UKC)
Size:
Medium to Large
Type:
Purebred
Life span:
10-13 years
Temperament:
Friendly
Confident
Devoted
Optimistic
Outgoing
Intelligent
Height:
22-23 inches (56-58 cm)
Weight:
60-70 pounds (27-32 kg)
Colors:
Black
Liver
Litter Size:
4-8 puppies
Puppy Price:
Average $1000 - $1200 USD
Breed Characteristics
| | |
| --- | --- |
| Adaptability: | |
| Apartment Friendly: | |
| Cat Friendly: | |
| Child Friendly: | |
| Grooming: | |
| Health Issues: | |
| Intelligence: | |
| Trainability: | |
| Watchdog Ability: | |
Dog names
| Rank | Male | Female |
| --- | --- | --- |
| 1 | Bailey | Coco |
| 2 | Zeus | Sasha |
| 3 | Baxter | Piper |
| 4 | Jax | Lady |
| 5 | Roscoe | Izzy |
| 6 | Rocco | Cookie |
| 7 | Moose | Millie |
| 8 | Finn | Shelby |
| 9 | Joey | Athena |
| 10 | Thor | Winnie |
| 11 | Gunner | Josie |
| 12 | Frankie | Baby |
| 13 | Chase | Bonnie |
| 14 | Chester | Madison |
| 15 | Ranger | Gigi |
Next » Field Spaniel