Bernese Mountain Dog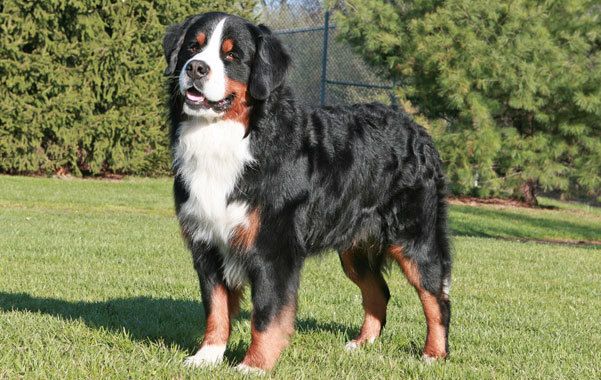 Overview
The canton of Bern in Switzerland is the place of origin of the Bernese Mountain Dog. Nevertheless, its ancestors are not as well identified, since no written records or prior history of the breed has been found. Most historians have concluded that roman mastiffs were probably their direct ancestors, as the empire's territory was extended up to Switzerland in ancient times. Recognition of this breed by moderns standards began in the early 1900s, where the first Bernese Dogs were recognized as a new breed.
Characteristics
One of the most important characteristics of this dog is, of course, its big size, with an average weight of 100 lb. (45 kg) and height up to 26 in. (66 cm.), it's no wonder why the Bernese Mountain Dog looks so browny. Another essential part of this dog's aspect is its coat, which, without exception, must be long -1 or 2 inches. Color of the coat should always be black all over its body, with white and rust colors on its neck, chest, and legs.
Temperament
As Bernese Mountain Dogs were originally drafting or pulling dogs that lived always surrounded by many people - like families or traders that used them to pull small carts -, its temperament became family-friendly and very hard-working. As a result, this breed needs to be continuously motivated to perform productive activities - or pretending to do so - like pulling things or bringing tools to their owners. One of the main advantages of this breed, in particular, is that despite their size, they are great with kids, as patience and carefulness are embedded in their genes.
Lifespan
In this particular area, Bernese Mountain Dogs don't do it quite well. They can be affected by a broad range of diseases like bloat, hip dysplasia, joint problems, and different types of cancers - like fibrosarcoma or hemangiosarcoma - which combined, significantly limit their lifespan. The average lifespan of this breed is 8 years, and special food or supplements to avoid any of this illness are commonly needed during their life.
Shedding and ownership
Owning a pet is never cheap, but when talking about expensive ownership costs, the Bernese Mountain Dog is a champion, and not only because of the common health problems that they have. Their long coat needs constant maintenance. Regular brushing is required to avoid either hair-knots or shedding everywhere. It's important to say that due to their size and working style of life, these dogs eat enormous amounts of food, something between 80 pounds (35 kg.) of dry food can be easily consumed in a single month by them.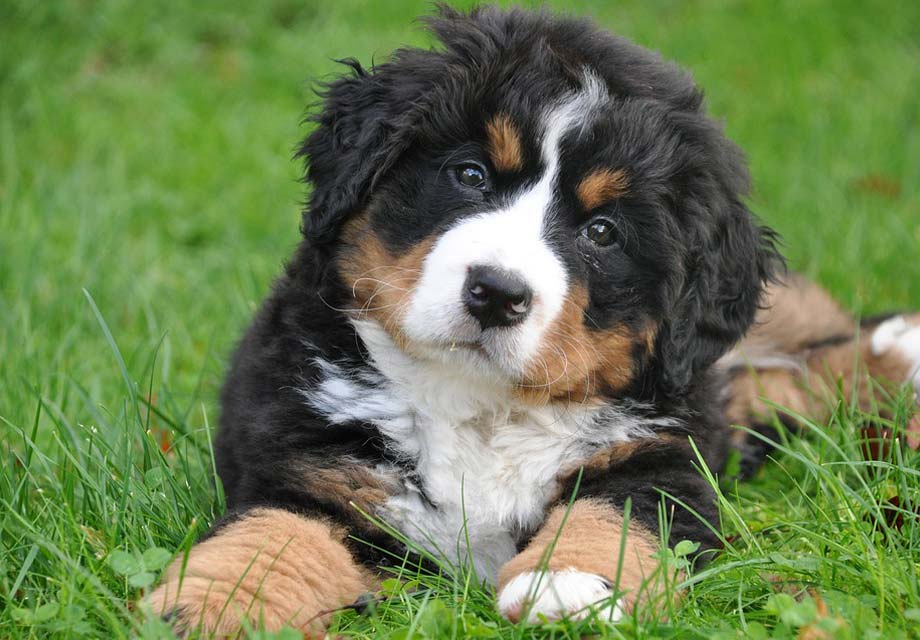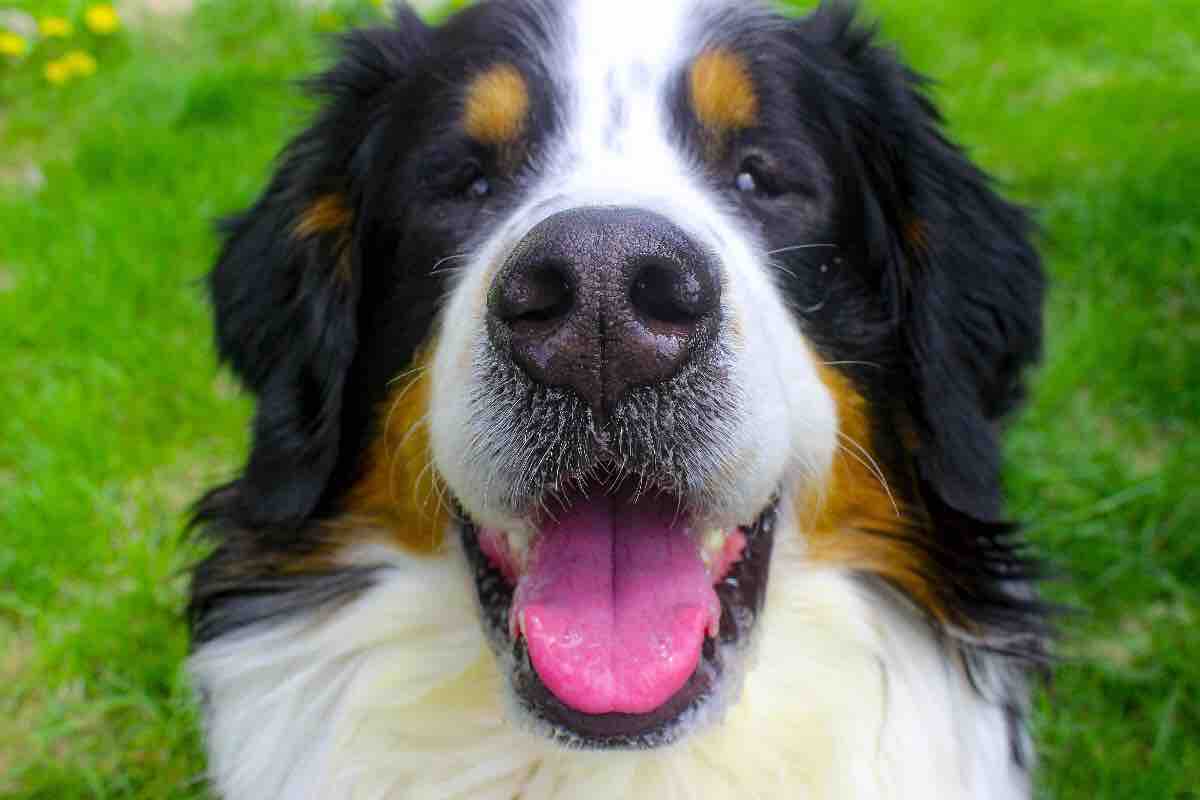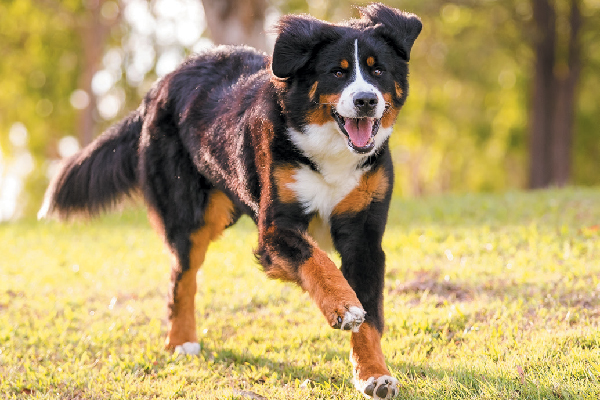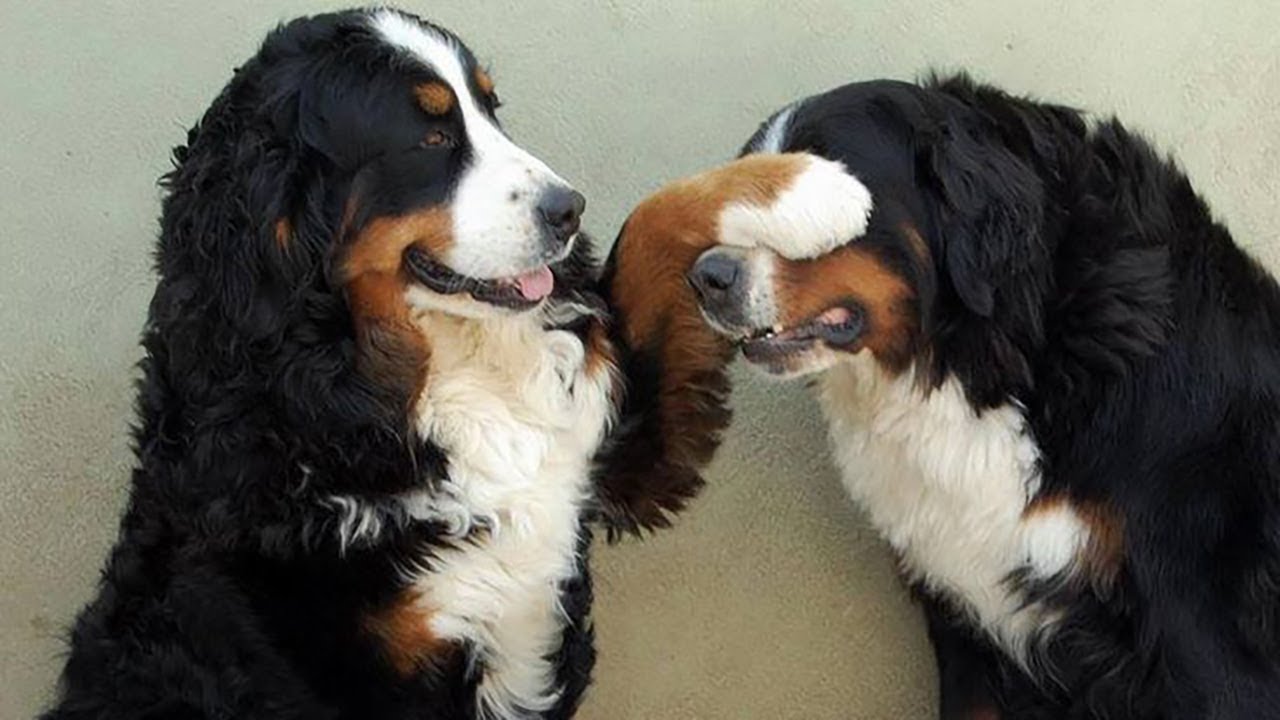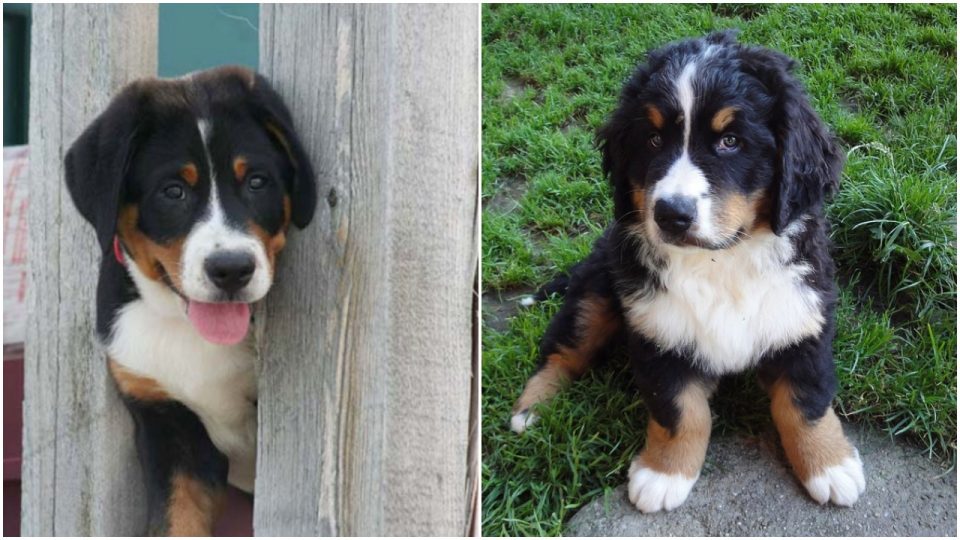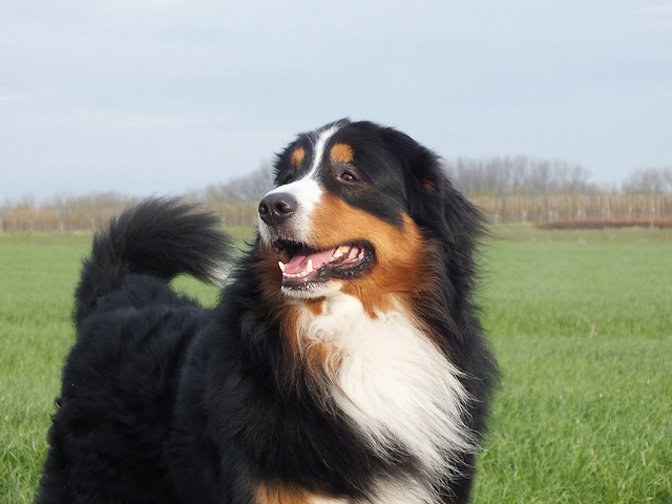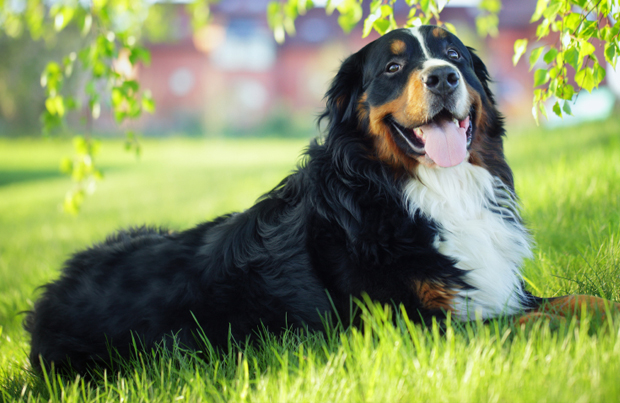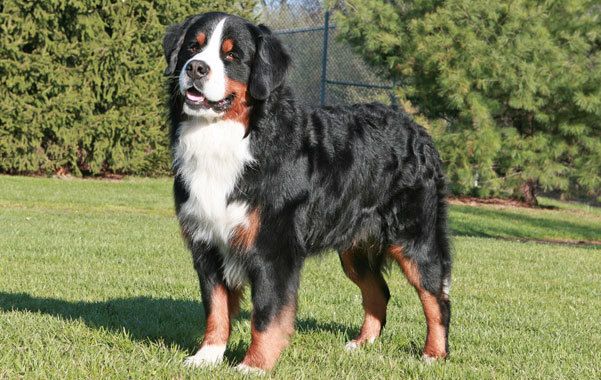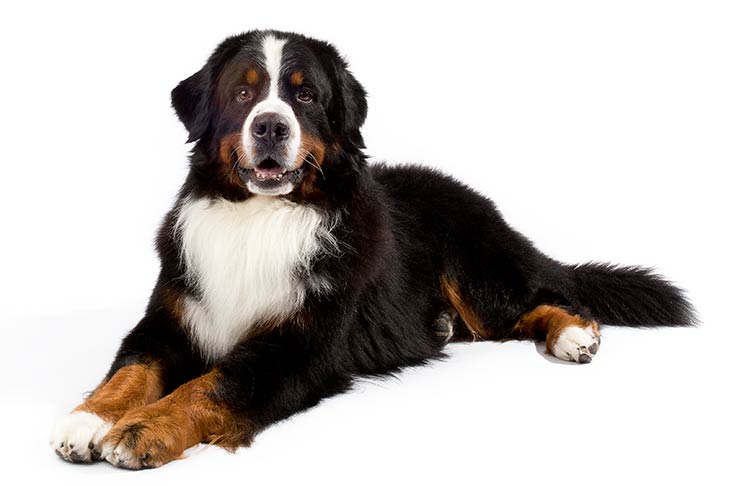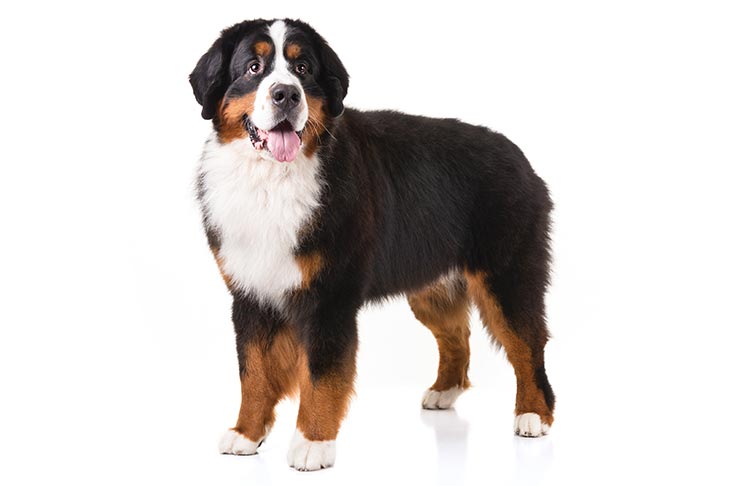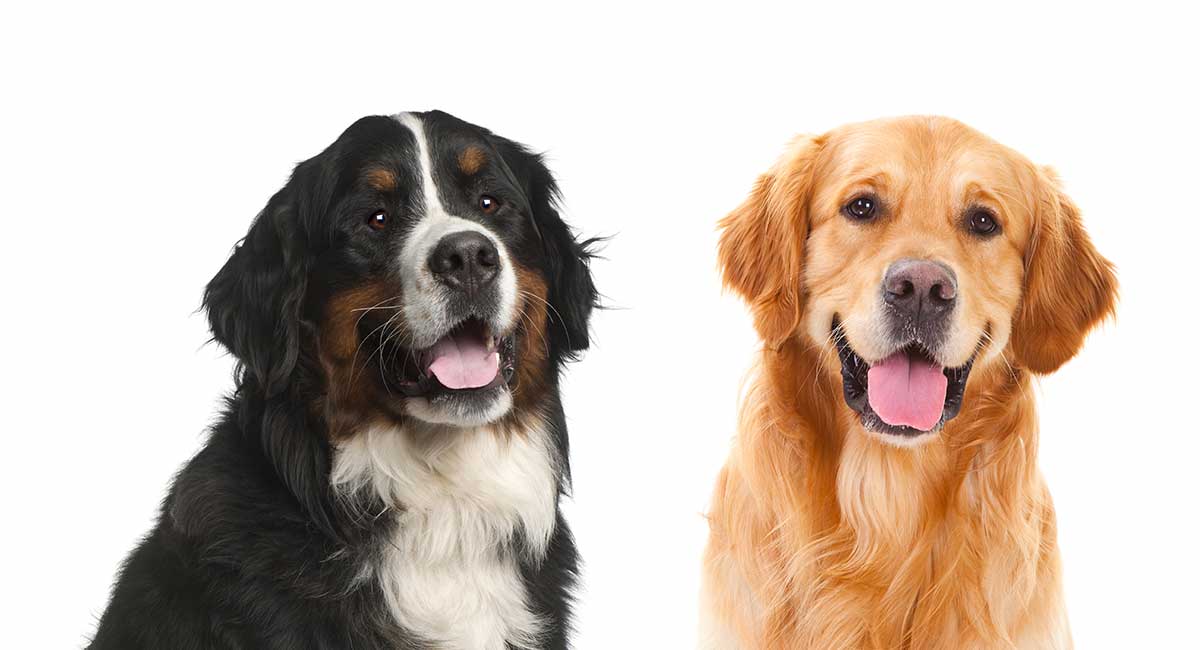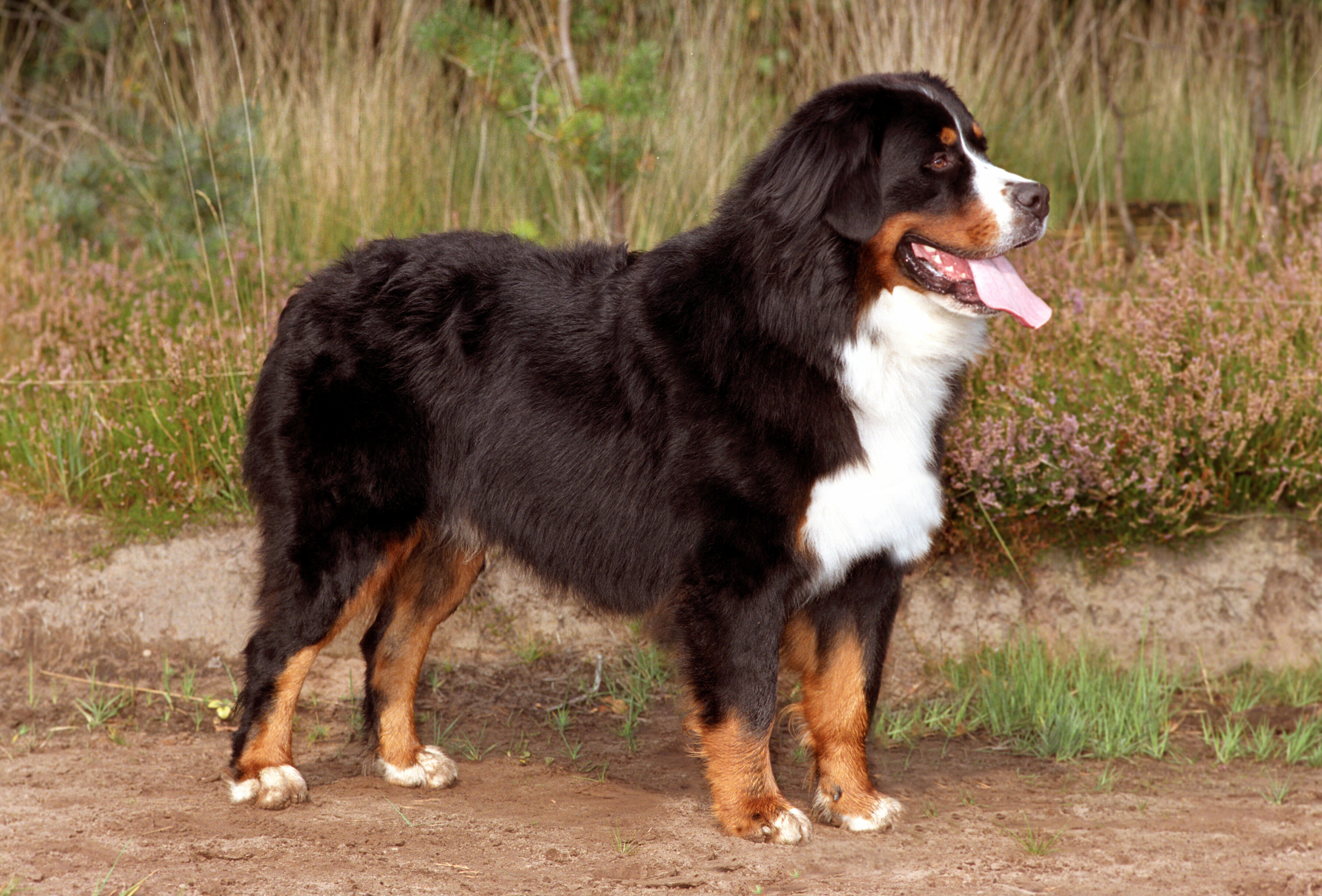 Breed Information
Popularity:
2018: #25
2017: #25
2016: #27
2015: #29
Origin:
Switzerland
Breed Group:
Working (AKC:1937)
Guardian Dogs (UKC)
Size:
Large
Type:
Purebred
Life span:
7-10 years
Temperament:
Affectionate
Faithful
Intelligent
Loyal
Height:
Male: 24-28 inches (61–71 cm)
Female: 23-27 inches (58–69 cm)
Weight:
Male: 85-110 pounds (38–50 kg)
Female: 80-105 pounds (36–48 kg)
Colors:
Black
White
Litter Size:
1-14 puppies, average 8
Puppy Price:
Average $800 - $1000 USD
Breed Characteristics
| | |
| --- | --- |
| Adaptability: | |
| Apartment Friendly: | |
| Cat Friendly: | |
| Child Friendly: | |
| Grooming: | |
| Health Issues: | |
| Intelligence: | |
| Trainability: | |
| Watchdog Ability: | |
Dog names
| Rank | Male | Female |
| --- | --- | --- |
| 1 | Max | Bella |
| 2 | Charlie | Lucy |
| 3 | Bailey | Coco |
| 4 | Dexter | Zoe |
| 5 | Louie | Mia |
| 6 | Gizmo | Lexi |
| 7 | Marley | Maddie |
| 8 | Roscoe | Izzy |
| 9 | Blue | Missie |
| 10 | Apollo | Charlie |
| 11 | Sparky | Shadow |
| 12 | Coco | Lacey |
| 13 | Cash | Delilah |
| 14 | Bruce | Heidi |
| 15 | Ranger | Gigi |
Next » Brittany